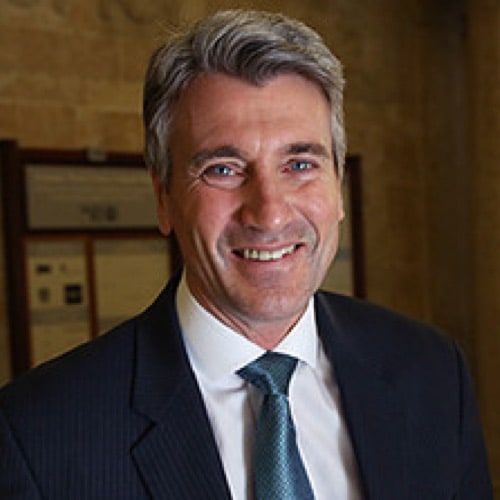 R.T. Rybak
Former Mayor, City of Minneapolis
President & CEO, The Minneapolis Foundation
Minneapolis, MN
R.T. Rybak served as Mayor of Minneapolis from 2002-2013, and is currently President of the Minneapolis Foundation.
Prior to his role at The Minneapolis Foundation, Rybak was Executive Director of Generation Next, a broad partnership of organizations and leaders from across Minneapolis and St. Paul dedicated to educational excellence and narrowing the achievement and opportunity gap. Previously, as a Senior Advisor for Municipal Practice at Living Cities, he contributed to Living Cities' strategic engagement with city governments across the country.
During his tenure as mayor, R.T. led efforts to make Minneapolis a national leader in innovative, cradle-to-career approaches to youth development, and has worked to highlight the crisis of our region's achievement gap and advance effective strategies for ending it.
As mayor, R.T. founded the Minneapolis Promise, an innovative cluster of coordinated efforts to get students college- and career-ready and put them on the path to success. The Minneapolis Promise says to young people that if they stay in school and focus on their education, Minneapolis will support them with high-quality summer jobs and work-readiness training through the STEP-UP program, counseling to help them plan a vision for their future at privately-funded college and career centers in every Minneapolis public high school, and financial assistance to attend college through The Power of YOU, a collaboration between Saint Paul College, Minneapolis Community and Technical College, and the Saint Paul and Minneapolis Public Schools.
R.T. has called STEP-UP the achievement of which he is the most proud. Since 2004, STEP-UP has put 18,000 Minneapolis youth — 86% young people of color, 50% from immigrant families and 93% living in poverty — to work in meaningful summer employment. The White House recognized STEP-UP as a national model for youth summer jobs at a conference that President Obama attended.
R.T. has been recognized as a national "Afterschool Champion" by the Afterschool Alliance not only for his leadership of the Minneapolis Promise, but for founding the Minneapolis Youth Violence Prevention Initiative, an innovative public-health approach that has dramatically lowered youth involvement in violent crime, for being a champion of the youth-led Minneapolis Youth Congress, and for his active involvement in Minneapolis' Youth Coordinating Board.
A Minneapolis native, R.T. Rybak spent almost 30 years working in journalism, the commercial real estate business, publishing and the Internet before being elected mayor in his first run for public office.