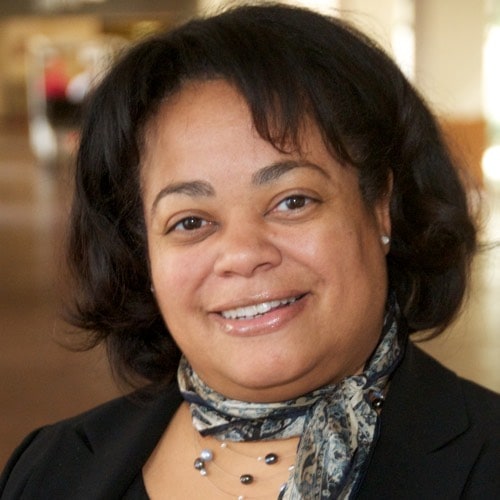 Karla Henderson
Volte - Change Strategist
Executive Director, Ponyride cowork space
Detroit, MI
Karla Henderson joined Volte in November 2017 as a Change Strategist, bringing over 20 years of municipal management experience and leads municipal operations and planning projects. Prior to that she was appointed by County Executive Warren Evans, serving as Director of Capital Planning and Buildings Administration for the Charter County of Wayne, Michigan. In that role, she was responsible for the County's real estate portfolio, general fund facility maintenance and capital projects and served as the County's Chief Administrative Office for the Wayne County Building Authority.
Her non-profit experience includes serving as the Chief Operating Officer of the Charles H. Wright Museum of African American History and she also served as Executive Director at Ponyride, a non-profit organization in Detroit studying to see how the foreclosure crisis can have a positive impact on the community by providing low rent for socially-minded entrepreneurs.
Mayor Dave Bing appointed Karla, in July 2009, as the City of Detroit's Director of Buildings, Safety, Engineering and Environmental Department and in August 2010, she was promoted to Group Executive of Planning and Facilities where her responsibilities included overseeing of the Building, Safety, Engineering and Environmental Department; the Detroit Building Authority; the Department of Administrative Hearings; the Planning and Development Department; the Mayor's Detroit Works Short-Term Neighborhood Intervention project and the Bing Administration's Demolition program.
She has also served as the Chairperson to the City of Detroit Brownfield Redevelopment Authority, the City of Detroit Local Development Finance Authority, and as Mayor Bing's designee to the Detroit Building Authority Board of Commissioners. She is an Urban Land Institute Rose Center Fellow for 2010-2011. Prior to joining the City of Detroit, Henderson worked for the City of Ann Arbor for 8 years serving as the Manager of the Field Operations Services Unit. From 1996 to 2001, Henderson served as Director of Special Programs for the City of Highland Park.
She holds a Bachelor of Science Degree in Public Service Resource Management from the Michigan State University and resides in Detroit.