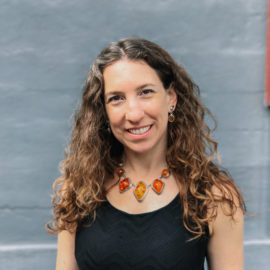 Lisa Beyer
Senior Design Associate, Alta Planning + Design
Oakland, CA
Lisa is a landscape architect and urban designer, passionate about cities, design and community. Her love of urban landscapes informs a long-standing commitment to planning, design, and implementation of high-performance green infrastructure and public realm projects.
Lisa's work demonstrates progressive, new ways of integrating water, energy, transportation, and landscape infrastructures within our built environment. Her design approach advances sustainability, meaningful public engagement, placemaking, and long-term viability from project concept through operations and maintenance. She openly shares her enthusiasm, research and experience at lectures and serves as a guest critic for landscape architecture studios.
Lisa has 18 years of experience designing and managing urban infrastructure projects in New York City, St. Louis, Philadelphia, and the San Francisco Bay Area. She joined Alta Planning + Design in 2016 to help lead and grow the landscape design practice in Northern California. Alta is a leader in active transportation planning, design, and implementation, with expertise in trails, Complete Streets, parks and open spaces, wayfinding, and much more.
Prior to that Lisa worked as an on-site at the San Francisco Public Utilities Commission on watershed planning and green infrastructure design for their Sewer System Improvement Program. From 2008-2011, Lisa worked for the Philadelphia Water Department's Office of Watersheds where she was responsible for the planning, design and implementation of the land-based stormwater infrastructure programs outlined in Philadelphia's precedent-setting Green City, Clean Waters Plan. She also taught hydrology and stormwater management at Philadelphia University.
Lisa is a licensed Professional Landscape Architect in California and a member of the American Society of Landscape Architects and the American Planning Association. She earned her masters degrees in Landscape Architecture and City Planning from the University of Pennsylvania, and a B.A. in architecture from Washington University in St. Louis.