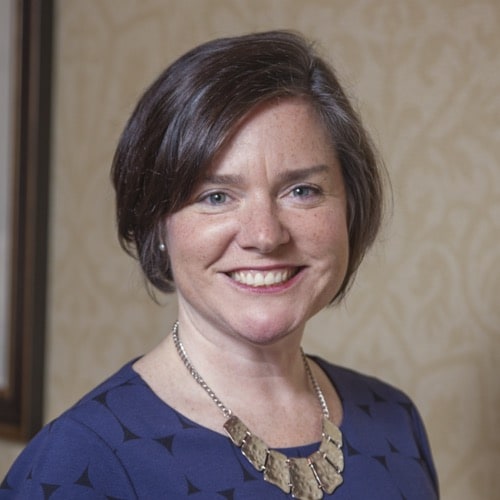 Kate Collignon
Managing Partner, HR&A Advisors, Inc.
New York, NY
Kate Collignon brings 15 years of private and public sector experience in economic development, real estate, and urban planning, with an emphasis on downtown and waterfront revitalization. Collignon works with public, institutional, and private sector clients nationwide to advise on master plan creation, craft public-private partnerships, and manage complex projects. In addition to her contributions on projects, she also oversees the growth and operations of HR&A's New York City headquarters.
Collignon provides economic strategies to underpin master plans and negotiates the partnerships necessary for implementation. She served as project manager for several of HR&A's master planning efforts, including a strategic growth and modernization plan for the Research Triangle Park in North Carolina; an award winning master plan for a seven mile stretch of waterfront on the Delaware River in Philadelphia; a sustainable plan for Union Pier in Charleston, South Carolina; and an industrial revitalization strategy for the district surrounding Philadelphia's Lower Schuylkill River.
Collignon also supports HR&A's public policy and open space planning practices. She examined the vast number of publicly owned, underutilized parcels on behalf of Detroit Works, and assessed current and best practices for regulating and promoting construction site safety on behalf of the Building Trades Employers Association of New York City. She supports governance and operations planning for new open space proposed for the Seattle Central Waterfront, and is formulating a funding and governance strategy for Gateway Park in Oakland, California.
Prior to joining HR&A Kate served as a Development Director with Brookfield Properties, where she managed pre-development for commercial and mixed-use projects across the United States. Previously, she worked with the New York City Economic Development Corporation, where she served as Senior Vice President for Development and was in charge of large-scale planning and development initiatives for Manhattan's 125th Street, Downtown Brooklyn, Coney Island, the Brooklyn waterfront, and Brooklyn Bridge Park.
Collignon is a graduate of Columbia University, and holds a Master's in Public Policy and Urban Planning from the Kennedy School of Government at Harvard University.