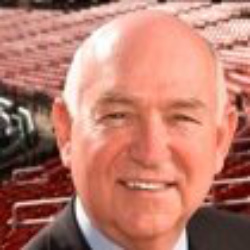 Jim Cloar
Principal, Downtown Advisory Services
Tampa, FL
Jim Cloar has spent over 40 years as a professional urban planner and not-for-profit manager. He led private not-for-profit organizations focused on revitalization in Dallas, TX, Tampa, FL and St. Louis, MO for a collective total of 26 years. In Dallas, his activities included catalytic initiatives that led to creation of the Dallas Arts District. In Tampa, his organization assembled land and funded pre-development studies facilitating the development of a new sports and entertainment arena. Among his roles in St. Louis was funding, development and management of a new public plaza.
Cloar has also been a Partner/Principal with a Maryland-based urban design firm and, prior to that, headed the Washington staff of the Urban Land Institute (ULI). In 2010-2011, he served as the Interim President of the International Downtown Association and is a former IDA Chair. He was been honored by the Mayor of St. Louis with the 2006 "Quality of Life" Award and by IDA with the 2013 Dan E. Sweat Award for Lifetime Achievement in Downtown Leadership.
Cloar has been a consultant, advisor and/or speaker to over 50 cities across the U.S. and abroad. Recent clients include Wichita KS, Burlington VT, Tulsa OK and Baltimore MD. He has served on ULI Advisory Panels for Raleigh, Orlando, New Orleans, Charlotte, Denver, Oklahoma City and Colorado Springs and recently chaired a ULI Technical Assistance Panel (TAP) in Bradenton, FL. He is a Past Chair of ULI's Public-Private Partnership Council and a former Chair of ULI Tampa Bay.
Cloar is a Penn Institute for Urban Research "Scholar", on the Board of Directors of the National Civic League, a Commissioner of the Tampa Housing Authority and a Trustee of the Henry B. Plant Museum. He is writing on civic leadership for the 21st Century and is principal author of the ULI-IDA published book "Centralized Retail Management: New Strategies for Downtown".
Cloar has a Bachelor of Science in Civil Engineering degree and a Master's in Regional and City Planning degree, both from the University of Oklahoma. He resides in Tampa, Florida.