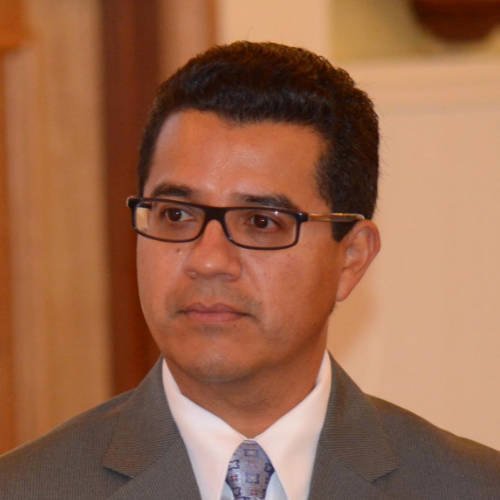 David Flores
Director of Community Development, Casa Familiar
San Ysidro, CA
David Flores leads the community/urban planning and civic engagement with issues revolving around: housing & built environment, art and culture development, advocacy for equitable infrastructure, environmental justice, and border-community development. With a Bachelor of Architecture from the University of Arizona, and recipient of the coveted Enterprise Rose Architectural Fellowship, Flores has over 17 years of working with underserved, disadvantaged communities. He also directs art & culture engagement at The FRONT (Casa's art center & gallery), hosting bi-national artists/exhibitions.
Flores has continued engagement with the U.S. General Services Administration (GSA), since 2004, in the San Ysidro Port of Entry Expansion and Reconfiguration Project (serving on GSA's Good Neighbor Program and Art in Architecture Program for all 3 phases). A key highlight through this work resulted in second pedestrian crossing for the project – PedWest (opened in July 16, 2016).
Flores was also key in implementing the first air quality study for the border community of San Ysidro (Healthy Borders Project, 2008-2011) that has identified air pollution concerns along the San Diego-Tijuana border, established a PM2.5 Air Monitor by the US EPA, and is currently overseeing the San Ysidro Air Quality Monitoring Study, a community led effort utilizing low-cost sensors with funding from the California Office of Environmental Health Hazard Assessment (OEHHA). The monitoring network is providing data for the State of California's CalEnviroScreen tool identifying EJ communities.
Recent efforts also include: securing a $254,000 Urban Lift Grant resulting in a $1.2M rebuild of a community park playground (2015-2017); securing a $450,000 Artplace America grant for a social impact heavy housing development, resulting in $9.0M New Markets Tax Credit allocation (2017); and a $500,000 Project Reinvest Neighborhood grant (2017) for a future housing project.
Flores has served on the Chula Vista Redevelopment Board as a Director (2009-10), and currently serves on The San Ysidro Community Planning Group (2000-2009 and 2010 to Present).