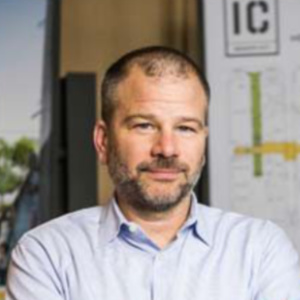 Andrew Kimball
In August 2013, Andrew Kimball joined Industry City as CEO directing the redevelopment of the long-underutilized six-million square foot industrial facility in Sunset Park, Brooklyn. In March 2015, Industry City launched a 12-year, $1B redevelopment that will create 20,000 jobs through a unique mixed-use blend of innovation economy and modern manufacturing, retail, and academic uses.
From 2005 to 2013, Mr. Kimball served as President and CEO of the Brooklyn Navy Yard Development Corporation (BNYDC) overseeing the transformation of this 300-acre former Naval ship-building facility. Under Mr. Kimball's leadership, the Navy Yard became a national model of the creation of innovation economy jobs and sustainability. Mr. Kimball successfully leveraged $250 million of City, State and federally-funded infrastructure improvements to generate over $750 million in private investment and 3000 new jobs. Mr. Kimball significantly broadened BNYDC's commitment to providing job placement services to the local community, environmental sustainability, and the celebration of the Navy Yard's rich history.
Prior to his Navy Yard appointment, Mr. Kimball served as Director of Operations for NYC2012, the privately-funded bid to bring the 2012 Olympic Games to New York City, and as Vice President of the New York Public Library. He holds a BA from Hamilton College and is a graduate of the Coro Public Affairs Fellowship program. Mr. Kimball lives in Park Slope, Brooklyn, with his wife, Sarah Williams, and two children and serves on the boards of the Citizens Budget Commission, Prospect Park Alliance (Executive Committee) and is the Coro New York Leadership Center (Chair).