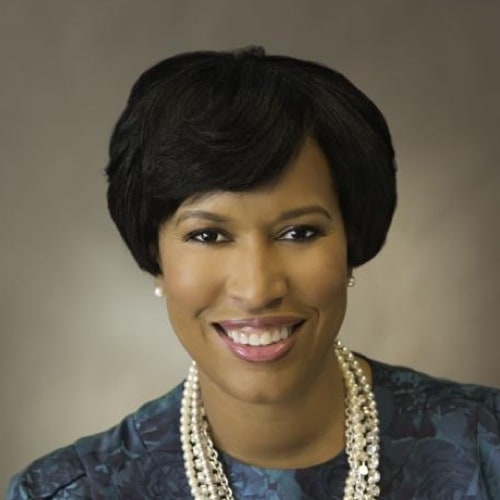 Muriel Bowser
Mayor, District of Columbia
Washington, D.C.
Muriel Bowser serves as Washington, DC's seventh elected mayor. Sworn in on January 2, 2015, she pledged to bring a fresh start to the District of Columbia, create pathways to the middle class for residents, and foster a culture of inclusion, transparency and action.
Mayor Bowser expanded opportunity across all 8 wards of DC by strengthening job training programs, and by attracting and retaining jobs in the District. As of the first quarter of 2016, there are burgeoning projects across the city that will eventually deliver 32,000 new jobs. She is committed to producing, protecting and preserving affordable housing. In her first budget, she devoted an historic $100 million to the Housing Production Trust Fund, putting an unprecedented number of affordable housing units into the pipeline. When Mayor Bowser came into office, she pledged to end homelessness, and has taken bold moves to deliver on that commitment, including releasing a plan to replace the city's largest family shelter with small, dignified family housing.
Mayor Bowser is creating a more transparent and open government through a cutting edge open data policy. She championed the successful launch of one of the largest, most transparent body worn camera programs in the nation, to enhance trust between the community and DC's metropolitan police department. And she launched an inclusive technology program to support startups and entrepreneurs offering products and services to underserved communities.
Prior to her time as Mayor, Bowser served as the Ward 4 councilmember of the DC Council–first elected in a special election in 2007, and re-elected in 2008 and 2012. As a Councilmember, Bowser chaired the Committee on Economic Development, which created more than 5,000 units of affordable housing, passed legislation to build a new soccer stadium, and secured from the federal government the best portion of the Walter Reed campus for DC. Bowser led her colleagues to pass comprehensive ethics reform and increased transparency in government contracting.
A native Washingtonian, Bowser earned a Bachelor of Arts degree in History from Chatham University and a Master's degree in Public Policy from American University.