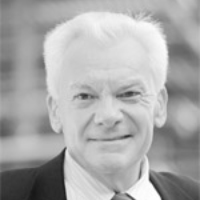 Michael Maxwell
Managing Partner - Maxwell + Partners, LLC
Miami Shores, FL
Michael Maxwell is Managing Partner of Maxwell + Partners, which he established in 1991. He is nationally recognized for achievements as a real estate investor, developer, advisor and educator. His career was built on a foundation of successful investments, innovative developments, market leading ideas and mentoring the industry's next generation of young leaders. He is internationally sought as a specialist in urban real estate and redevelopment.
Maxwell has spent 35 years investing, repositioning and developing nearly 3 million square feet valued at nearly $1 billion in Florida, the Caribbean and Latin America. His extensive experience focuses on urban real estate and mixed-use development including office, residential, industrial and retail projects and resort and hospitality destinations.
As an advisor, he engaged by investors, lenders and governments to resolve complex problems and craft solutions for arising from failure or economic change. He is an expert witness, and trustee to legal counsel, creditors and entities in bankruptcy for which he implements and executes successful strategies that recover value, restructure, resolve or liquidate distressed or bankrupt assets.
Maxwell's work is honored with major awards for innovative industrial buildings, unique historic preservation, and regenerative urban redevelopment projects. He was honored by the Urban Land Institute (ULI) in October 2011 with its national Robert M. O'Donnell award, and was appointed as a Distinguished Fellow to NAIOP, the national commercial real estate organization.
Previously, Maxwell served as Vice President of Codina Development Corporation where he was responsible for the visionary Beacon Center, a $400 million, 205-acre Business Park comprised of Class A Logistics/Office & retail products. Beacon Center received numerous honors and awards and is a ULI Case Study.
Maxwell holds a Masters of Planning from the University of Virginia, Charlottesville, VA with a focus in Real Estate Development & City Planning. He earned his Bachelor of Arts from the University of Texas at Austin where he majored in City Planning and Architecture. Maxwell was Interim Director/ Professor of Nova Southeastern University's Master of Real Estate Development Program, Huizenga School of Business, from 2010 to 2014.
He is an active Full Member of the Urban Land Institute (ULI) and serves on the SE Florida/Caribbean District Council Advisory Board. He is a Fellow of the Royal Institute of Chartered Surveyors (FRICS). In 2011 he was appointed by NAIOP as a Distinguished Fellow. He holds the American Institute of Certified Planners AICP designation. Maxwell is a Florida licensed real estate broker.