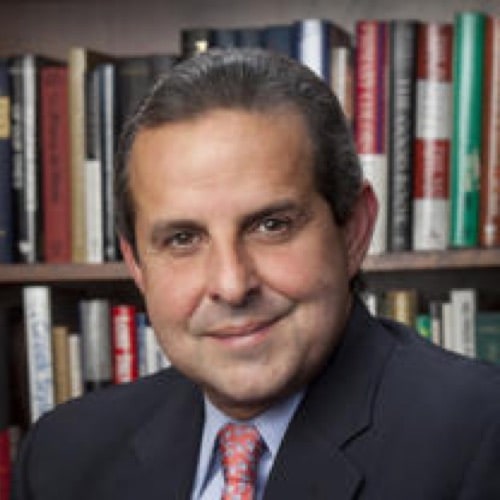 Manny Diaz
Former Mayor, City of Miami, FL
Senior Partner, Lydecker Diaz
Miami, FL
A force in local, state and national politics for nearly three decades, Manny Diaz was first elected City of Miami Mayor in 2001, having never before held elective office. He was reelected to a second term in 2005, and was chosen to lead the US Conference of Mayors as its president in 2008.
As mayor, Diaz developed a vision for Miami as an international City that embodies diversity, economic opportunity, effective customer service and a highly rated quality of life. To achieve this goal, he re-engineered Miami government from top to bottom.
During his two-term tenure, Diaz was recognized for completely transforming the City of Miami, and for many nationally recognized innovative programs in the areas of urban design, sustainability and green initiatives, education, infrastructure investment, affordable housing, law enforcement, poverty and homelessness, and arts and culture.
Diaz was recognized as one of America's Best Leaders by US News and World Report and The Center for Public Leadership (Kennedy School of Government); the Urban Innovator of the Year by the Manhattan Institute; Americans for the Arts-National Award for Local Arts Leadership; American Architectural Foundation Keystone Award; Miami-Dade Chamber of Commerce Power Leader of the Year and Green Visionary Awards; the Government Award by Hispanic Magazine; the Business Leader of the Year Award by South Florida CEO Magazine; and was named an Outstanding American by Choice by the United States Citizenship and Immigration Service.
He is a member of the Homeland Security Advisory Council of the US Department of Homeland Security and serves as Vice-Chairman of the Alliance for Digital Equality Board of Directors. He is also a member of the Board of the Bloomberg Family Foundation, the University of Pennsylvania's Institute for Urban Research, the Mayors' Institute on City Design, City Year Miami, the Florida After School Network, the advisory board for the Manhattan Institute's Center for Civic Innovation and the Florida Advisory Committee for the U.S. Global Leadership Coalition.
He recently served as a Resident Fellow at Harvard's Institute of Politics, and has now resumed his successful corporate and real estate law practice as a senior partner at Lydecker Diaz in Miami, Florida.