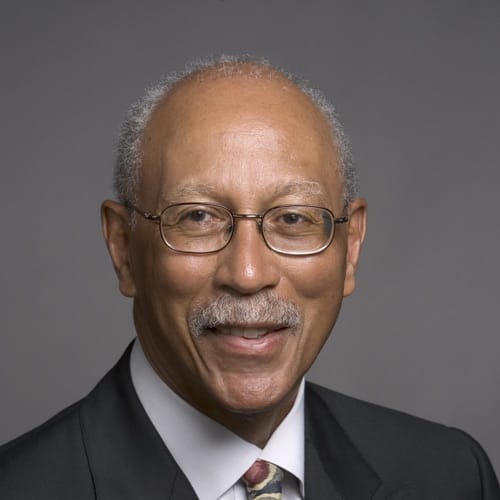 David Bing
Former Mayor, City of Detroit, Michigan
Detroit, MI
It's not often, if at all, that one can claim success in three distinct areas: professional sports, business and politics. Yet, Dave Bing did just that when he was elected the 62nd Mayor of the City of Detroit in May 2009. A native of Washington, D.C., Bing is a graduate of Syracuse University where he earned his Bachelor of Arts in Economics, and was later bestowed an honorary Doctorate of Laws in 2006. He was also a standout basketball player and an All American in both high school and college.
Dave Bing came to Detroit in 1966 when he was drafted by the Detroit Pistons as their #1 pick. Bing played nine of his twelve years in the NBA with the Pistons, and was named to the All-Star Team eight times during his career. Voted one of the top 50 basketball players of all time, Bing was inducted into the Michigan Hall of Fame in 1984, and into the Naismith Hall of Fame in 1990.
Bing turned his winning strategies from the basketball court to the boardroom as the founder of an automotive supply corporation, The Bing Group in 1980, where he served as President and Chairman until April 2009. Within a decade, The Bing Group was recognized as one of the nation's top Minority-Owned Companies by Black Enterprise.
Answering yet another call to serve, Bing decided to run for Mayor to help rebuild a city that he has loved and been a part of for more than 40 years. Proving that the basics of good performance, integrity and business can be applied to any area or industry, Bing has brought a renewed sense of trust and hope to the City of Detroit. He has already laid the groundwork for solid city government by instituting the toughest ethics ordinance in the city's history and making the tough but necessary decisions to stabilize the City's finances.
Dave Bing is married to Yvette Bing, with whom he has shared more than 23 years. He is also the proud father of three, and grandfather of four. He still enjoys tennis and golf, as much as his now demanding schedule will allow.