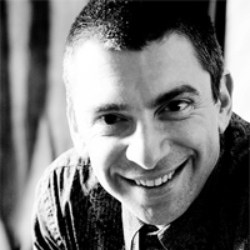 Dan Pitera
Executive Director, Detroit Collaborative Design Center - University of Detroit Mercy School of Architecture
Detroit, MI
Dan Pitera is a political and social activist masquerading as an architect. He is presently the Executive Director of the Detroit Collaborative Design Center at the University of Detroit Mercy School of Architecture. He views the design profession as an essential force in establishing human relationships and engagement.
The DCDC is dedicated to fostering university and community partnerships that create inspired and sustainable neighborhoods and spaces for all people. Pitera holds the position that the sustainability and regeneration of any neighborhood lies in the hands of its residents. Currently, Dan is co-leading the Civic Engagement process for the Detroit Works Long Term Planning initiated by Mayor Bing in 2010.
Pitera was a 2004-2005 Loeb Fellow at Harvard University. He was a finalist for both the 2008-2009 Rafael Vinoly Architects Grants in Architecture, and the 2006-2007 James Stirling Memorial Lectures on the City. Under his direction since 2000, the DCDC won the 2011 and 2002 Dedalo Minosse International Prize and was included in the US Pavilion of the 2008 Venice Biennale in Architecture. The DCDC was recently awarded the 2011 SEED Award, and the 2009 Rudy Bruner Award for Urban Design Excellence for the St. Joseph Rebuild Center in New Orleans. The DCDC was the recipient of the NCARB Prize in 2002 and 2009 and was included in the international exhibit/conference ArchiLab in 2001 and 2004 in Orleans, France.
Pitera was a resource member for the 40th and 43rd Mayor's Institute for City Design (MICD) and a facilitator for the MICD 25th anniversary in 2011. In 2011, Dan gave the keynote address at the Planning Institute of Australia's National Congress and the Keynote address in Lisbon to Portugal's equivalent to HUD. In 1998, Dan was the Hyde Chair of Excellence at the University of Nebraska. He has lectured and taught extensively throughout the North America, South America, and Europe.