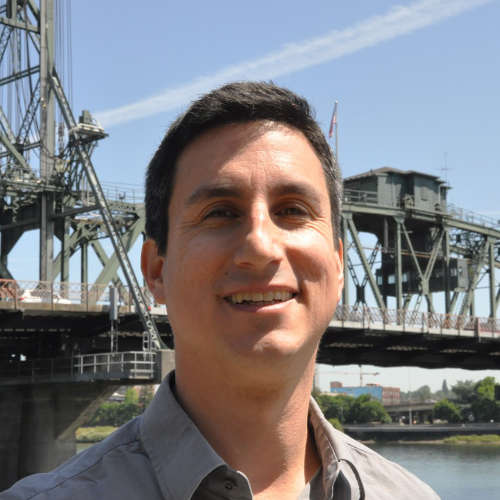 Alex Salazar
Principal - Salazar Architect Inc.
Portland, OR
Alex Salazar has 25 years of experience in multi-family housing, including renovations, new construction and community planning. He has designed dozens of affordable, mixed-income / mixed-use developments for non-profits and public housing authorities in a variety of urban and rural communities. Alex founded Salazar Architect Inc. in 2007 in the San Francisco Bay Area, and has completed 10 affordable housing developments over the last decade, with over 1,170 apartments and townhomes built. He relocated the firm to Portland, OR, in 2014. Alex's current projects include leading the design of a new $23 mil. high-rise supportive housing building, which is in construction, and leading the design of a new $40 mil. mixed-income / mixed-use community-benefit development for a local community development corporation.
Alex began his career in 1993 as a Graham Foundation Fellow working with non-government organizations in India on post-earthquake housing projects. Inspired by the experience he returned to the US in 1994 to work with homeless / tenant rights advocacy organizations in San Francisco while apprenticing with affordable housing design firms. In 2000 he became a founding board member of Just Cause Oakland (a tenant rights campaign and community organizing group now called Causa Justa:Just Cause), and has served on the boards of the Association for Community Design (Boston, MA) and East Bay Housing Organizations (Oakland, CA). Alex is passionate about community design and has facilitated dozens of workshops over the years. He became Social Economic Environmental Design (SEED) certified in 2017.
Alex's work has appeared in numerous magazines including Shelterforce and the book Expanding Architecture: Design as Activism. As an occasional Adjunct Professor, he has taught community planning at the University of Oregon, University of San Francisco, University of California at Berkeley and Portland State University. Alex holds a Bachelor of Architecture degree from Cal Poly, San Louis Obispo (1993), and a Master of Science in Architecture degree from University of California, Berkeley (1998).