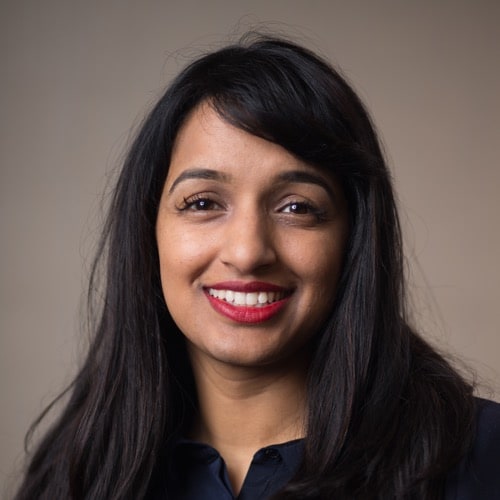 Lesley Varghese
Chief of Staff - Mayor's Office, City of Austin, TX
Austin, TX
Lesley Varghese is Chief of Staff to Austin Mayor Steve Adler, and is responsible for managing a staff of 15 within the Mayor's Office. She directs all of the Mayor's major initiatives and oversees the office's policy priorities, which include equity and economic development. Lesley has 14 years of broad experience in law, public policy and academia.
Prior to joining the Mayor's Office, Lesley practiced law, served as Executive Director & General Counsel to a community nonprofit and taught at the University of Texas at Austin. She is a published author and speaker on various legal, economic and public policy topics. Lesley attended the University of Texas where she was a National Merit Scholar, and a Governor's Fellow. She graduated from American University, Washington College of Law in 2003, where she was a member of the Moot Court Honor Board, served as President of the South Asian Law Students Association, and completed a Dean's Fellowship in Law and Government.
She began her legal career as a trial lawyer at McGinnis, Lochridge & Kilgore in Austin, and most recently practiced in the Global Finance department at Nixon Peabody, where she focused on transactional matters, and founded a South Asia practice across 17 offices.
Her financial restructuring experience includes advising on the acquisition financing of the Chicago Cubs, Wrigley Field, and the Brooklyn Arena (New Jersey Nets). Lesley is the immediate past President and a former Trustee of the North American South Asian Bar Association Foundation, the public interest arm of the national South Asian bar. Under her leadership, the NASABA Foundation funded and developed nationwide Asian American community initiatives in the areas of domestic violence, civil rights, immigrants' rights and community access to justice.
Lesley has been recognized with a Peabody Award and by the Pro Bono College of Texas for her community legal aid work. In addition, she is the recipient of numerous awards for her teaching and community advocacy, including the IACT Trailblazer Award, a University of Texas Dean's (Teaching) Award, the UT Division of Diversity and Community Engagement Leadership Award, the Capital Area Asian American Democrats Advocate of the Year Award, the BAGA Community Partnership Award, the AARC Image Award, and the Capitol Area Progressive Democrats "Kick Ass" Award. She currently serves on the Board of Directors for the Boston Higashi School, an international program for children with autism, as Chair of the UT Asian American Studies Advisory Committee, and on the Austin Community College- Leander Campus Advisory Committee.