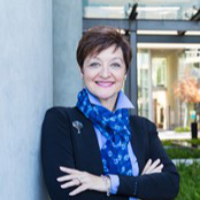 Ann Taylor
Senior Vice President, Midway Companies
Houston, TX
As Senior Vice President at Midway Companies, Ann Taylor is responsible for strategic communications, innovation/best practices, project research, public sector engagement and education.
Prior to joining Midway, Ann was executive director of the Houston District Council of The Urban Land Institute, a 501 c-3 research institute with more than 1,000 local members and 36,000 members worldwide.
Ann's 25 years as an entrepreneur, in nonprofit management, public affairs, and corporate brand positioning included creating and executing innovative brand positioning strategy for the research and development arm of one of the world's largest energy companies, collaborating with teams in the United States, London and The Hague. She developed and implemented internal communications and external public relations strategy for the roll-out of a consumer airline in 24 North American markets.
Ann's communications counsel and change management assignments include the merger of two global logistics providers, as well as the combination of United States and United Kingdom operations of a financial services provider, and the merger of two of the largest Catholic healthcare systems in the Southwest United States. Ann graduated from Rice University.