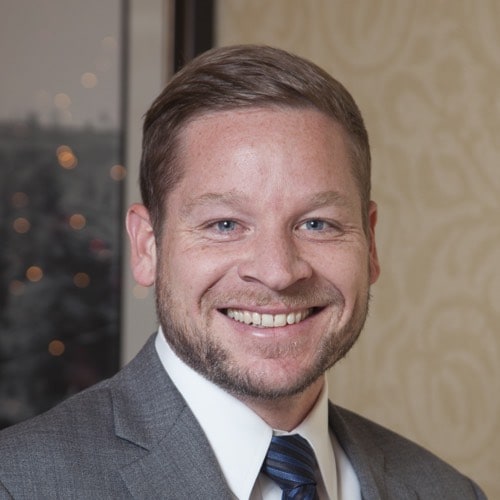 Kristopher Larson
President & CEO, Downtown Grand Rapids, Inc.
Grand Rapids, MI
An award-winning planner by trade and an economist at heart, Kristopher Larson has spent the last decade helping good cities become great. Career stops as an urban designer and an economic developer enable him to speak with an enlightened enthusiasm about how the confluence marketplace dynamics, architecture, and the public realm translate into defining, place-making experiences.
Larson currently serves as President & CEO of Downtown Grand Rapids, Inc. (DGRI), the organization that administers both the tax increment finance and self-assessment districts for Michigan's second-largest city. In that stead, Larson sets the course for public and private improvements within the downtown area and manages an annual budget more than $7 million.
He has held positions on both the public and private sides of community leadership, with career stops in the Midwest and on both coasts of the US. Prior to joining DGRI in 2012, Larson served as vice president of Downtown Long Beach Associates from 2009-2012, and as senior planner at the Raleigh Urban Design Center (UDC) from 2007-2009. At the UDC, he led the development of a 20-year plan for Downtown Raleigh.
Additionally, Larson worked to develop a set of market-based metrics and benchmarks to guide public policy development. Before joining the UDC, Larson served as deputy director of the Downtown Raleigh Alliance. In that role, he helped gain the commitment of the City of Raleigh to invest nearly $300 million in public infrastructure in the Downtown, which within five years yielded more than $2 billion in private investment.
Kristopher is constantly seeking to expand his knowledge of cities through service, as a member of the Board of Directors of the International Downtown Association (IDA) and as a member of the American Planning Association (APA). The IDA has awarded three Pinnacle Awards to his projects, one each for planning, advocacy and marketing. In 2010, he earned the certified planner credential, AICP, from the APA, and holds a Master's degree in public administration from NC State University.